Zamilovali jsme se.. do našich nových hostů. Pár z Anglie, odešli z práce, ukončili nájem, vybrali úspory a vydali se na cestu kolem světa. Naučili nás karetní hru Shithead a Lukas se jím stal již dvakrát.. mám vám říkat, jakými slovy ho vítají u snídaně? :D Mám pocit, jako bychom našli spřízněný duše a až bude ten minivan, pojedou s námi! Když odjížděli, i pár slz ukáplo a to já jinak nebrečím! Ne, teď kecám, já se rozbrečím u čehokoliv.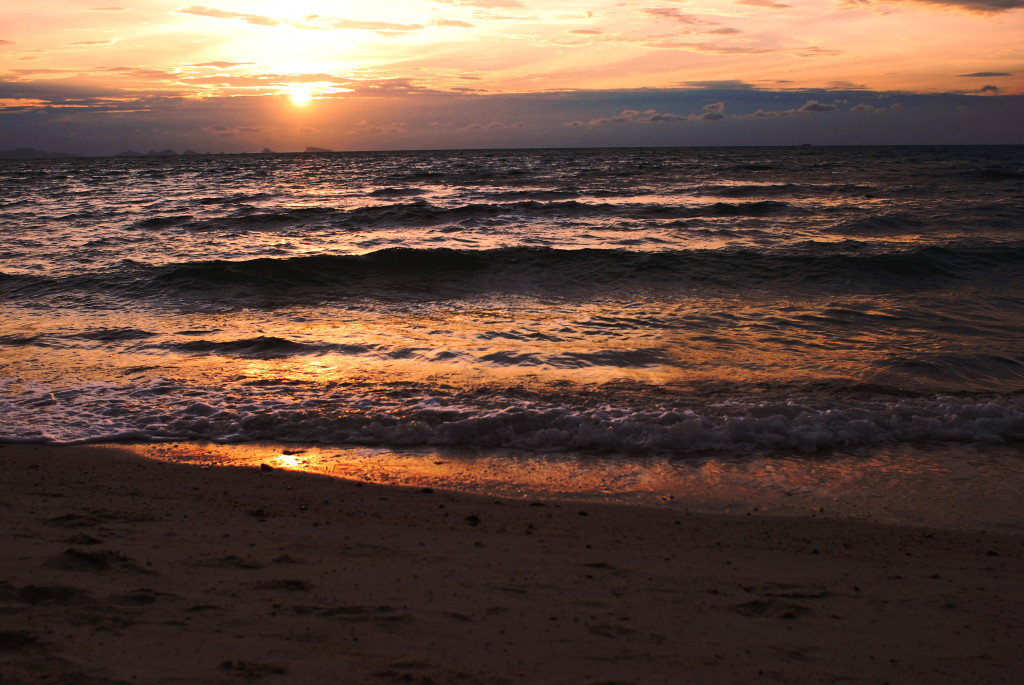 Usmyslela jsem si, že chci ježka. Jediný místo, kde jsou na Samui ježci je ale místní "něco jako Zoo" a tak jsem tam napsala, jestli mi jednoho neprodají. Lukáš se mi smál a řekl, že jsem jak malý dítě co chce lízatko.. To ale vůbec není pravda! Já chci jen ježka!
Divnej pán, divnej večer a ještě divnější diskuze! Představte si, že si povídáte s přáteli u vína a najednou si k vám o půlnoci přisedne tak 50ti letej Rakušák, každý oko jinam, místo pupku buben, saténová košile s havajskými květy – jo, fakt saténová! Divný! Jako první větu prohodí "Fucking this place" přičemž se na něj nechápavě podívám a sděluji, ať se teda odstěhuje zpátky do Rakouska. Monologem se dostává k otázce ladyboyů a vstřícně nám sděluje své zkušenosti s Ladyboyi – "to víš, chlap přesně ví, co má chlap nejradši" "nebráněj se zadním vrátkům"… a věřte mi, že tohle od tak nechutnýho člověka slyšet nechcete.. respektive, tohle nechcete slyšet od nikoho!
Lukáš tomu jako vždycky nasadil korunu! Když jsme se všichni sbalili, že už raději půjdeme spát, nezapomněl se ho zeptal "a kolik takový ladyboy stojí?"
Hurikán, bouřka, neskutečná průtrž.. a my dva na motorce. Stačilo 5 sekund k naprostému promočení a pak následných dvacet minut odhodlávání, vydat se z "úkrytu" do tý šílený spouště a dojet pro něco k jídlu. Promoklý, promrzlý – poprvé co tohle říkám po třech měsících, zní to asi směšně ale fakt nám byla zima! Ta nejlepší houbová polívka na světě to ale všechno spravila!
Po tom, co už v džungli řídím jak profík se mi v hlavě začala honit myšlenka, že bych to i na tý silnici přece jen mohla dát.. ať nejsem takovej srab. No.. po tom co se nám dneska vřítil do cesty 10ti letej kluk na silný motorce a zabil málem nás, sebe a poslal do vězení řidiče auta, který by za nic nemohl ale Thajsko je Thajsko jsem si to pěkně rychle rozmyslela.. fuj, až jsem si z toho musela koupit pořádně velkou zmrzlinu!
Blog se snažím už týden přenastavit do dvoujazyčný verze a jsem rozhodnutá stát se full time blogerkou.. tou nejlepší na světě samozřejmě! Jelikož ale nic nedělám na půl, chci krásný překliknutí na anglickou verzi v podobě vlaječky a né cpát do českých článků další text v angličtině. Blog ale odmítl spolupracovat a asi mi dává najevo, že se na to mám vyprdnout, jako že na to nemám? Pfff, hážu na tebe bobek!
Obsazený jeden pokoj – wifi funguje perfektně, voda teče, elektřina proudí.. Obsazený celý resort – wifi nefunguje, voda neteče, elektřina vypadává.. co z toho vyplývá? Nikdo sem nejezděte!
Mravenci už obsadili i můj notebook což považuji za nejhorší ze všeho! Když píšu tenhle článek, vylézají z pod písmenek a hrajeme si společně takovou hru, kdo z koho první zešílí. Musím říct, že mravenci celkem slušně vedou!
Dál taky šílíme z Laosanů, uzobávají nám jídlo pro hosty, v kuchyni to věčně smrdí divnejma věcma a namáčí nám všechny utěrky, protože oni utěrky neznají a myslí si, že to je hadr! No a teď jim to zkuste pantomimou vysvětlit.. a taky si zkuste leštit skleničky mokrou utěrkou!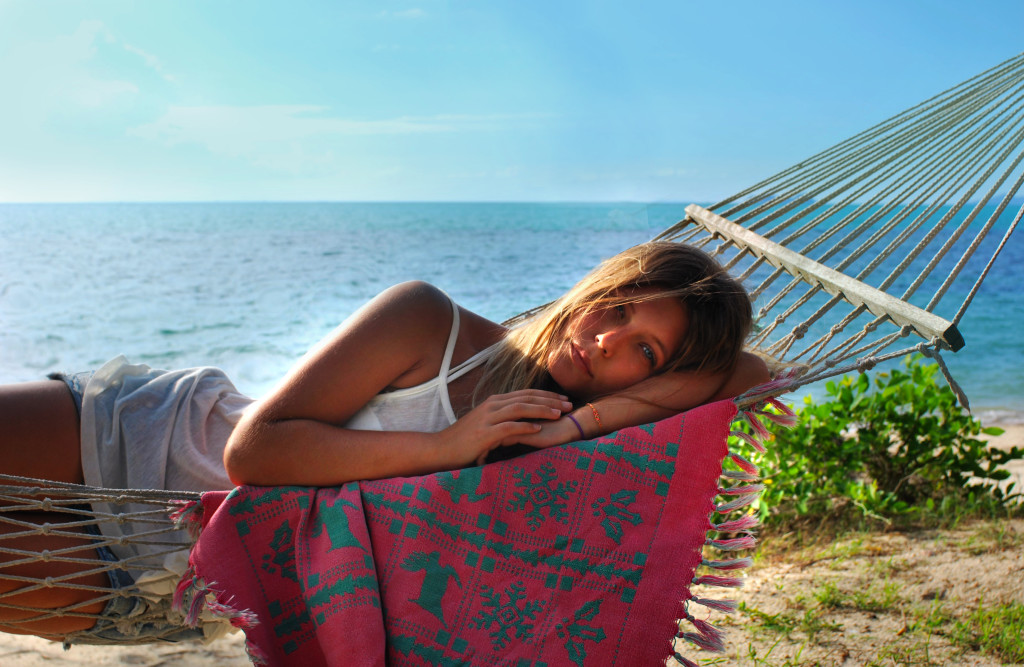 Malou (fakt hodně malou) náhradou za naše Brity nám byl pár z USA- zase cestovatelé :) On dělal dokonce na lodi na Aljašce, to bylo fakt zajímavý – milujeme lidi co cestují, mají tolik co vyprávět, nikdy se nestane, že by jste si s nimi neměli co říct..
Miluju překvapení, takže když se u silnice objevila obří cedule s šipkou do tunelu z rostlin a nápisem BIG SUPRISE, musela jsem vidět, co se za tím skrývá! A víte co se tam skrývalo? OBŘÍ GUMOVÁ KAČENKA!  Jé, jak já miluju překvapení! A jo, Lukáš měl pravdu, jsem jak malý dítě!
Dál tu máme dalších xx lidí a po třech měsících češku! Pracovala na Zélandu a teď s přítelem z Chile cestují po světě. Oba jsou úžasní, je s nimi sranda, krásně se s nimi povídá a vypadá to, že tu jako první otestuje tetovací salon, což bych opravdu ocenila protože jsem odhodlaná jít do toho konečně taky!
A poslední věc? Vidíte tu první fotku? Když za námi v létě přijedete, vezmu vás tam a můžeme společně proodpočívat celý den! (pokud nás zbavíte hostů) No není to nádherný?
Tak jo, to bude pro dnešek všechno, pořád bych psala ale už takhle je to áž moc dlouhý a navíc ty mravenci! Ty mravenci jsou takový svině! Já bych je vyplavila ale tím bych vyplavila i ten notebook! Doprdele!
Užijte si krásný týden a napište mi, o čem by jste chtěli článek příště :) Moc děkuju za všechny vaše komentáře, jste nejlepší <3
S láskou Anie