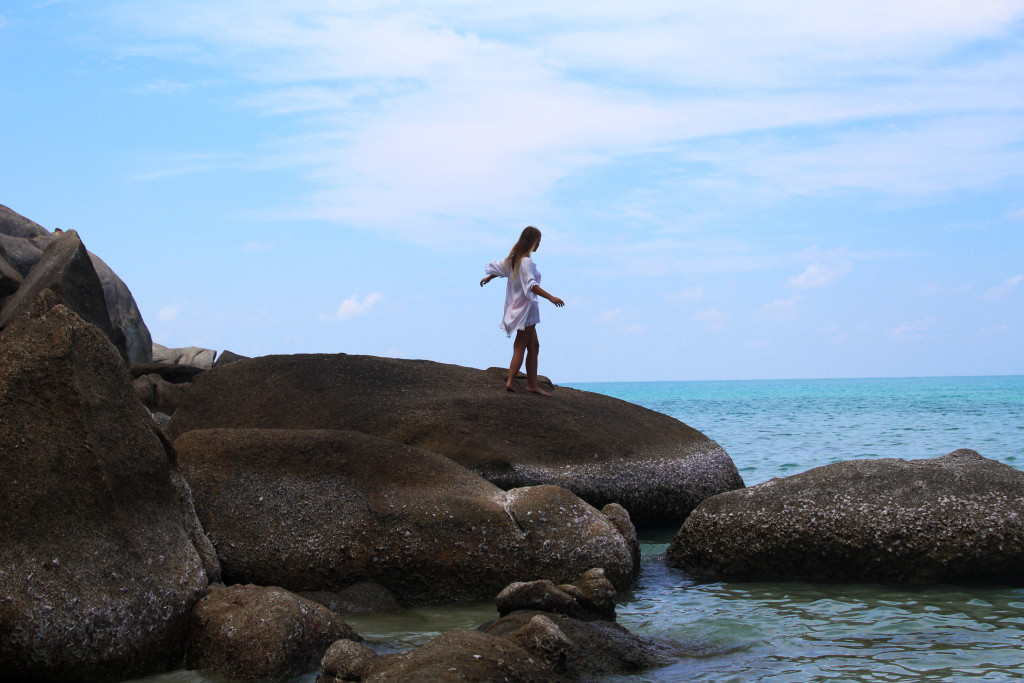 PONDĚLÍ: Rozhoduju se, že tenhle týden bude jeden z těch nejlepších. Žaludek se mnou sice stále moc nesouhlasí ale já se mu vzpírám tou nejlepší meducínou podle našich Německých přátel. Pivem. Vypiju 2, křeče ustanou, mohu se vzdálit koupelně a večer se dokonce skvěle bavím.
Přijíždí Lukášovi rodiče a my jsme nadšení, oni jsou nadšení, celej svět je krásnej, i když prší a je nám prostě hezky. Navíc se o nás asi dozvěděl ježíšek a.. bože můj těch dárků, toho jídla! Olivy, hummus, horalky, svíčková….!, dopisy od vás, dárečky, parfémy – aby jsme jim tady nesmrděli.. a holky teď se podržte – kalhotky a foťák!.. Umíte si představit moji radost?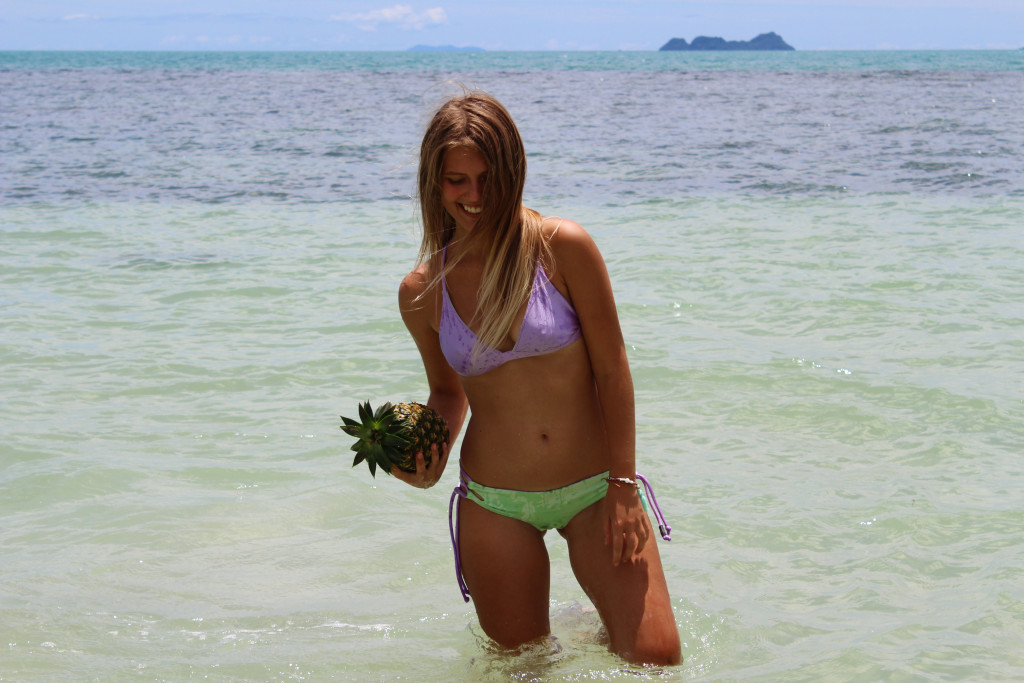 ÚTERÝ: Celou noc mi přijde, že nám v koupeně šíleně mňouká kotě! V 5 ráno už to nevydržíme a jdeme se podívat, co se tam děje. Poop vylezl z bedničky (klasicky) a vlezl do roličky od toaleťáku, kde se vzpříčil a nemohl se dostat ven (hold už vyrostl). Běhal jako blázen po koupelně a neuvěřitelně naříkal. Roličku jsme roztrhy a ježka vyprostili, jen doufáme, že nám z toho traumatu neonemocní.
Na snídani hroznej mazec. Neuvěřitelně protivný Irové – je jich 5 a neumí ani pozdravit, takový zelený Rusáci :D. Hlava mi třeští – asi z toho piva ale žaludek už naštěstí moc neremcá,  mám ale takovou radost, že trsám v kuchyni na Aviciiho a těším se na další krásný večer.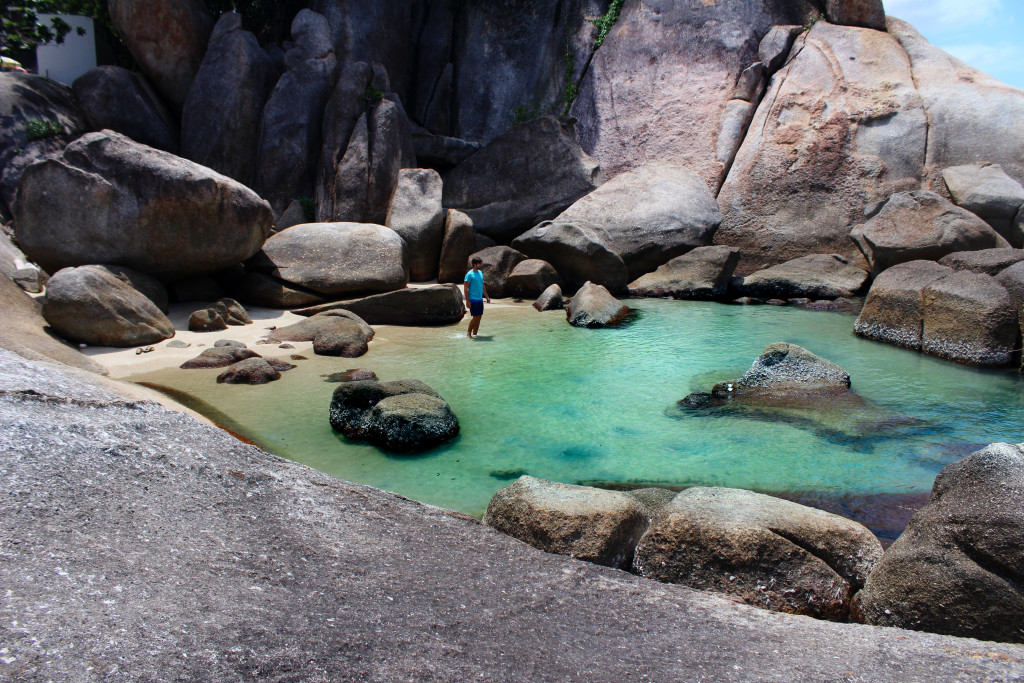 Ještě před příjezdem jsme pověřili naše rodiny, aby nakoupili něco hezkýho Mimi – 3letá holčička od babičky – ta co na nás střílí. Předáváme ji taštičku s pastelkami, omalovánkami s vílou Amálkou, Rákosníčkem, Hurvínkem, sladkosti s Hello Kitty a Kinder vajíčka! Oči se jí rozsvítí, ihned začne omalovávat, ochutnávat všechno možný i nemožný – jako třeba jedlý papír, který nemůže pozřít, lepí se jí na patro a evidentně jí vůbec nechutná. Kinder vajíčko rozbaluje s nadšením a děda hračku s nadšením snad ještě větším sestavuje.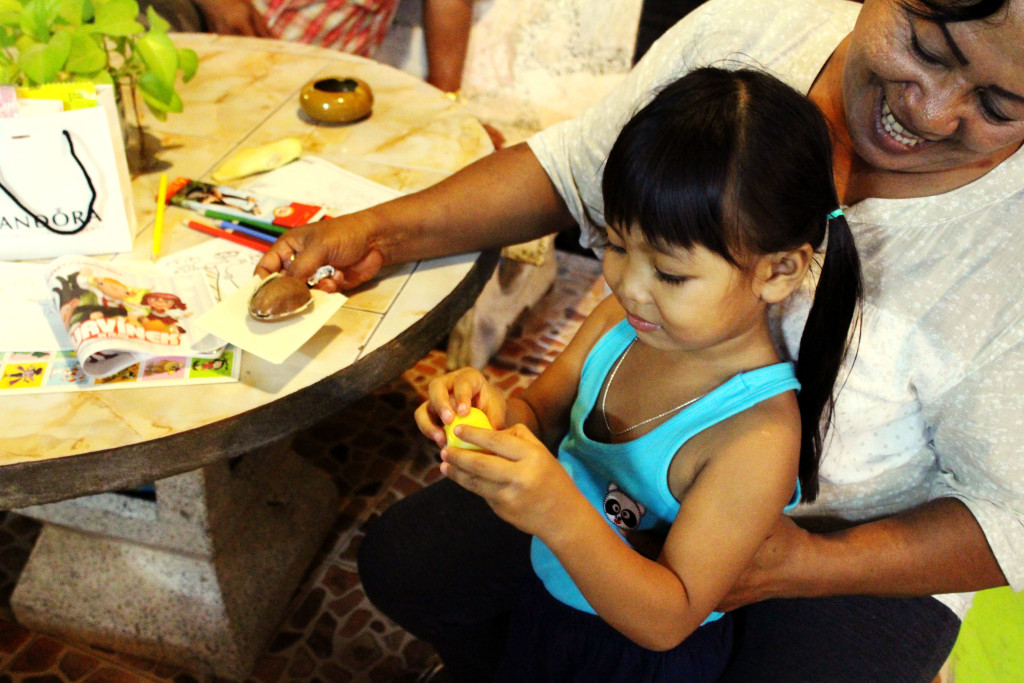 STŘEDA: Uklízíme jako draci, letíme vyfotit fotky na blog, píšu článek, odepisuju na hromadu emailů a hned jak to jde míříme na pláž. Blbneme ve vodě jako děti, tisickrát jsem se napolikala, tisíckrát se dusila.. večer kupujeme 2litry vína, v ledničce se nám chladí olivy z Penny. Ježka bereme na pláž, kde je určitě taky nejšťastnější, kocháme se západem slunce. V 9 hodin mě bere hlava a mířím do peřin – sluníčko za to nemůže, já prostě nepiju. Vždycky na to zapomenu a pak to takhle dopadá :(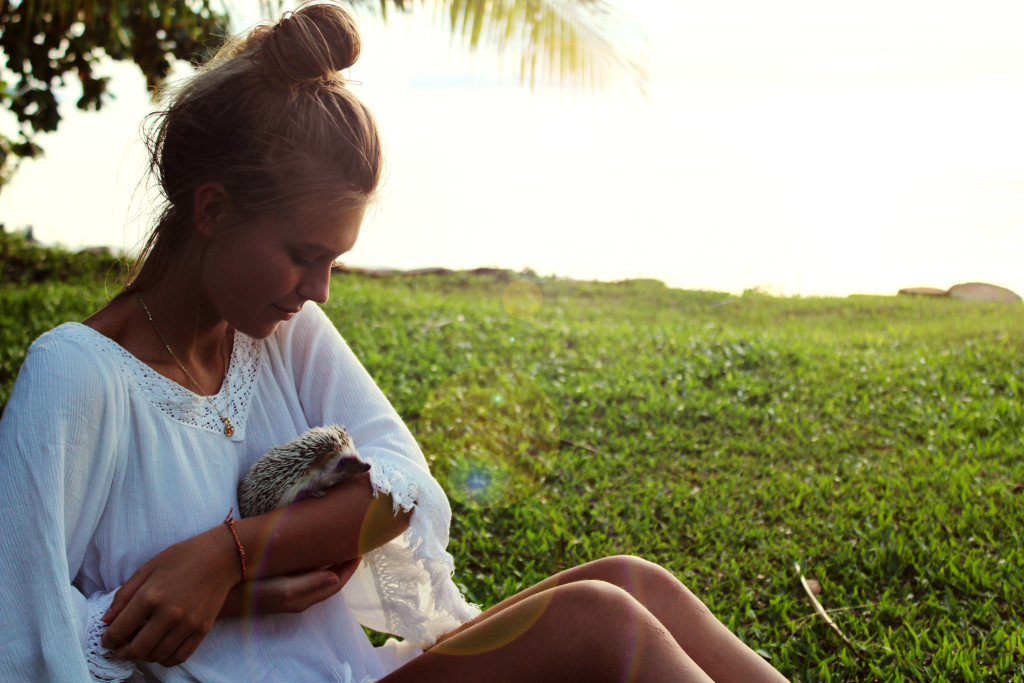 ČTVRTEK: Ráno na mě vletí nějaká Španělka, kde je jako můj šéf a majitel resortu – ptá se po Lukášoj. Irové jsou pořád hrozně nepříjemný a celkově to teď vypadá tak, že každý, kdo přijede je vůl. Vlna skvělých lidí odešla s nabitou letní sezónou a teď tu jsou všichni jen na dovolený
Mám alergii na lidi.
Přijíždí se k nám ubytovat ladyboy s přítelem.
Lukáš už má taky alergii na lidi.
Na trzích nakupujeme spoustu jídla, dárečky.. když už vánoce, tak pořádný! Plánujeme výlet na další den a já vypiju moc vína. Další krůček ke splnění mého snu zdolán (né tím vínem – samozřejmě). Rodiče nám zakazují Kambodžu, vymýšlíme další možnosti.. a bude to třeba ještě lepší!
PÁTEK: Po snídani vyrážíme na výlet. Rychle vše uklidíme, zaměstnáme Ben, ať nám popřípadě ubytuje hosty a my chceme konečně vypnout.
Ochutnáváme zmrzlinu v rohlíku, jo, čtete dobře. Recept je jednoduchý – rozkrojte rohlík a naplňte ho kokosovou zmrzlinou.. ano, nechutná to nejlíp a ano, není po tom nejlíp
Schválně si beru šaty s rukávem přes ramena protože vím, že si je jinak budu muset zakrývat v chrámech šátky. Nějakýmu mnichoj jsou mý ramena ale úplně putna (nebo spíš nejsou) a žene mě z velkýho buddhy do půjčovny těch správných obleků. Zatímco se u tý zlatý nádhery pařím v překrásným kimonu, prochází vedle mě nesčetně holek v kraťáskách ze kterým jim lezou půlky a tílkách na ramínka.. Fakt nevím co se mnou měl ten mnich za problém – asi mu vadili moje krásný, dlouhý a vypracovaný nohy. Je to jasný!
Celkově nám to tu s Lukášem připadá jako jedna velká komedie. Já měla vždycky k buddhismu velkou úctu, zajímalo mě to a takový mnich u mě vzbuzoval zvědavost, klid a především respekt, ale potom, co nám řekl děda, jak to vlastně celé je a co jsme viděli mnichy v chrámu koukající do notebooků, telefonů, tabletů… je to jako říct dítěti, že ježíšek neexistuje :( SMUTNÝ, MOC SMUTNÝ!
Další zastávkou je mumifikovvaný mnich, který zemřel při meditaci – Thajci tvrdí, že medituje stále. Na hlavě má vlasy, kůži seschlou s jemnými chloupky, a na očích.. na očích Ray Bany. Vedle mnicha se prodávají "buddhistický" korálky. Sáček kupuji na náramky, ať je to zase zajímavější a pokračujeme k bazénu, který už všichni z fotek znáte.. uděláme asi milion fotek, vyblbneme se, najíme a já usínám v autě jako spokojené miminko. :)
Nehet na palci fakt odrůstá. Chci vám to vyfotit ale Lukáš mi to zakazuje. Je to totiž hrozně nechutný a vy by jste se sem pak už nejspíš nevrátili.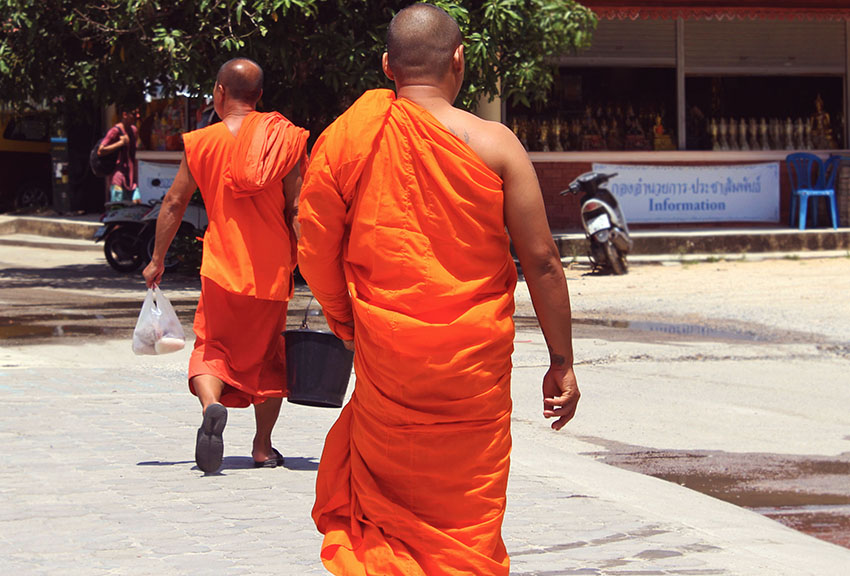 SOBOTA: Uklízíme asi stopadesát pokojů – pot z nás teče, kůže se nám leskne a chutnám slaně. Najednou přijedou dva hosté a po dlouhé době – Češi. Shodou okolností dokonce z Hradce, kde je paní ředitelkou základní školy. Chvilku si povídáme a pokračujeme. V tom přijde další rezervace na dnešek, takže když si myslíme, že máme konečně hotovo – nemáme.
Rychle se najíme a Lukáš odjíždí na vodopády, zatímco já čekám na hosty a dělám náramky. Přijedou Thajci – hrozný Thajci! Pokoj chtějí znovu zamíst, vytřít a pak mi ještě volají, jestli jim uděláme snídani už v 7 místo v 8. Houby! Nic nebude!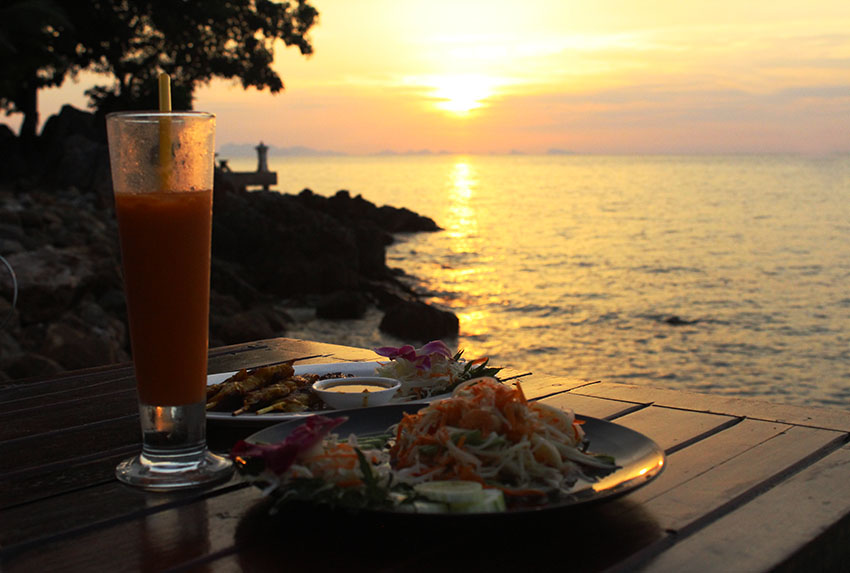 Jdu si do kuchyně nakrájet meloun a zrovna tam Laosanka čeká, až se jí dovaří jejich zázračný lektvar. Stojím tam, krájím.. najednou ke mně přijde a kouká na mě – čumí, ona vyloženě čumí, zírá.. ! Měla jsem dobrou náladu a prostě jsem to nevydržela a začala se hrozně smát – ona ale ne, tak jsem raději rychle odkráčela do pokoje. Hrozně by mě zajímalo, co se jim honí hlavou. Celkově ale přemýšlejí úplně jinak, než my – v kuchyni máme jen dva malý hořáky, já tu mám plnou jídelnu lidí, nevím, kde mi hlava stojí a oni klidně přijdou v tom největším šrumci a začnou si na těch hořácích vařit a vy jim prostě nevysvětlíte, že musí počkat – nechápou to, vůbec nás nechápou. Občas je to na zabití, občas je to hrozná sranda.
Zatímco já mám v resortu lehký drama, Lukáš se kochá v Nathonu svatbou se slonem – sakra, zrovna dneska?
NEDĚLE: dopisuju tenhle článek a neuvěřitelně se těším na poledne – dneska jedeme za naší opičkou <3 ale o tom až příště..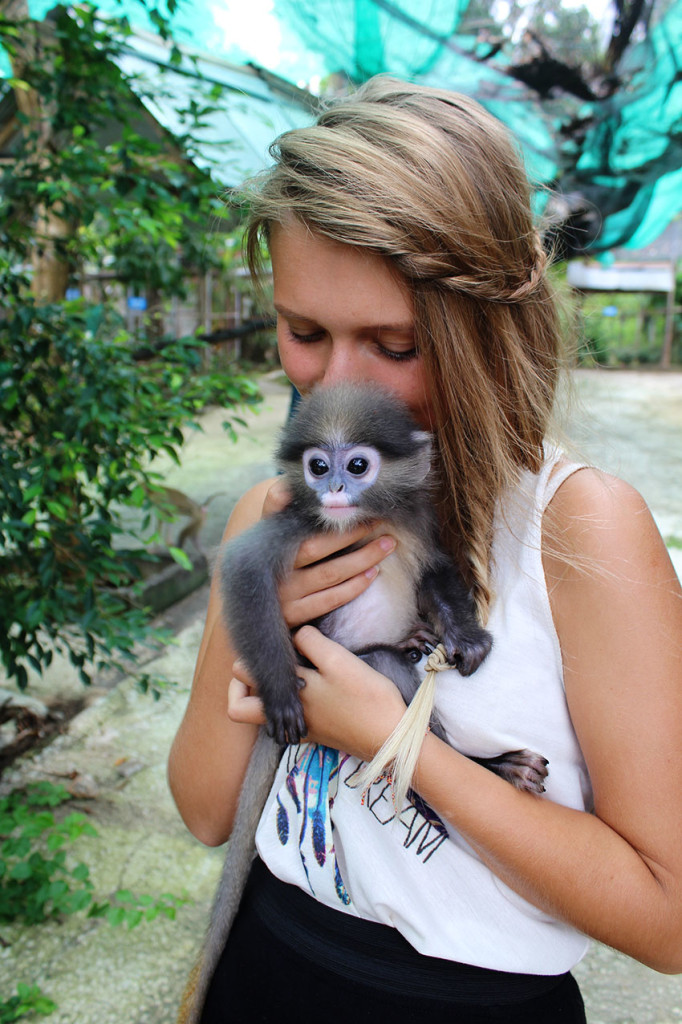 Dodatek: Naše opička tam nebyla, byli tam jiný.. začínám všechno v Thajsku vnímat úplně jinak, než před půl rokem a záchranná stanice nejspíš nebude záchrannou stanicí, jak se nás snaží přesvědčit. Nicméně paní opičky miluje a oni milujou jí a prostě.. i když vím, že by se v džungli měli milionkrát líp a hned bych je tam všechny pustila, miluju to chování miminek, hraní si s nimi.. nejde jim odolat, no podívejte se sami <3
---
Užijte si krásnou neděli a hledejte v každém obyčejném dni něco výjimečného – vždycky tam něco je a nezáleží v jakém koutu světa se zrovna nacházíte :) A pokud potřebujete inspiraci, nezapomeňte na TerezkuInOslo – je v tom přeborník :)
S láskou Anie<3